Improve Efficiency with Service & Parts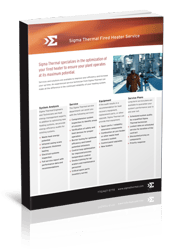 Sigma Thermal is a single source of supply for all of your heating system components. Our parts will save you significant time and money, and our knowledgeable engineering staff is always available for customer support.
Inside you will find information about:
• Part types
• Services offered
• Specialty components
Learn more about our parts and service, complete the form to receive your copy of the brochure.