Download the SHOTS Electric Thermal Heating Brochure
Sigma Hot Oil Transfer Systems (SHOTS) are electrically powered thermal fluid heating systems. SHOTS incorporate an electric circulation heater with a low watt density immersion bundle and fluid circulation pump to create a simple, robust, and reliable system. This system uses electricity to heat your thermal fluid instead of natural gas, fuel oil, or biomass fuel sources.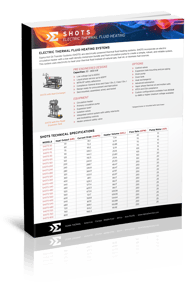 Inside the brochure you can learn about:
Pre-engineered designs

Heater options

SHOTS typical specifications
And more!
Download a copy of the SHOTS Electric Thermal Heating brochure by filling out the form.